From SciFi Stream:
http://www.scifistream.com/2008/06/18/scifi-stream-exclusive-damian-kindler-builds-a-new-sanctuary/
(Please follow the link for the complete interview.)
SciFi Stream Exclusive: Damian Kindler Builds A New 'Sanctuary'
June 18, 2008 7:28 pm SciFi Stream Sanctuary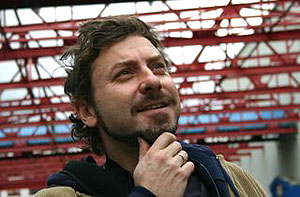 After the successful Internet premiere of Damian Kindler's
Sanctuary
in 2007, SCI FI Channel picked up the show for a television run — 13 episodes, now in production in Vancouver, British Columbia and set to premiere on the cable network this fall. The show is about an organization that seeks to find and help monsters and other "unique" individuals in the world, led by the 150-year-old scientist Helen Magnus (
Stargate SG-1's
Amanda Tapping, who also serves as an executive producer).
The jump to television adds up to a reboot of the series, including reshoots and a recut of the original pilot episode. In this exclusive interview with SciFi Stream, Kindler reveals his plans for the official first season and the changes that are now in the works.
Check out the full interview after the jump, then head over to the show's official Web site — SanctuaryForAll.com!
http://www.sanctuaryforall.com/
A brief excerpt:
SFS: What is the core of what
Sanctuary
is, that you said, "This is the kernel that we are fashioning everything else around, and it's not going to change?"
DK: It's still the search for monsters, helping the monsters that need helping, protecting the world from monsters that are too dangerous to be allowed to be free. And it's revealing the secret behind that work, which has to do with the future of the human race and why the monsters are the key to that future. There's a very dark, incredibly powerful secret that Magnus is holding onto and responsible for.

It's one thing to say, "Hey! Another monster of the week! This is great! Why are we doing this?" "Well, because they're out there!" I think that you need to know why. I think there has to be this deep, secret agenda of why would you go out and face down these creatures or try to contain these creatures if there wasn't a really long-winded reason. And we're going to very much be as long-winded as possible … so by the end of Season Nine you might have an idea of why!

Yeah, we're going to create some conspiracy. There is an arc.
**snippage**
Sanctuary premieres this fall on SCI FI Channel in the United States.
Visit SciFi Stream's Sanctuary show guide!
http://www.scifistream.com/sanctuary/