From Legends Memorabilia:
Hello All,
A quick note to let you know that we have now opened the Gatecon 2008 FAQ section on our
website
. Click on the Gatecon tab in the left panel of our homepage and you will be taken to the FAQ section.
You will note that it has been divided into various sections:
- Guests
- VIP Photos
- RDA Autograph Sessions
- General Questions.
The link to the VIP Photo Registration Page will become 'live' in the next few days and we shall post an announcement as soon as this is open.
We encourage you to check back from time to time as we may be amending, updating and adding things to the FAQs.
Along with the Gatecon 2008 organizing committee, we at Legends are going to do our best to ensure that you have a thoroughly enjoyable event. I am in contact with Richard Dean Anderson almost daily as we approach the event and I can assure you that he is really looking forward to coming to this show. To illustrate this, let me share with you an excerpt from one of his emails to me last week when we were discussing the event. I have personally been running a bit ragged in trying to get everything in place for him and he senses that I was working my nerves to the bone! This then prompted the following comment: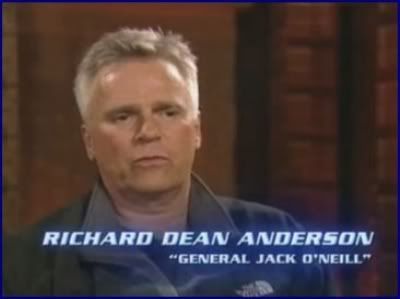 (Quote) "Stop immediately all this stress stuff........I will do everything I can to make the experience for everybody an absolute pleasure, if not a downright JOY." (End quote)
Very encouraging words for you all and I can add my assurance that he really does intend to give you your money's worth. If there are any stragglers out there who haven't yet purchased tickets, we encourage you to do so soon.
Along with Richard, our guests and our 'surprise' visitors, this will be an event you won't want to miss!
Best to you all....see you next month!
Paul Brown
Legends Memorabilia
~~**~~**
GateCon 2008
August 21 - 24 '08
Vancouver, BC, Canada
Guests include: Richard Dean Anderson, Cliff Simon, Corin Nemec, Alex Zahara, Dan Shea, Dan Payne, Bruce Woloshyn, Steve Bacic, Gary Jones, Dean Haglund, and Capt. Paul Watson from The Sea Shepherd Conservation Society.