At
SciFi Wire
:
(Please follow the link for the complete SciFi Wire article.)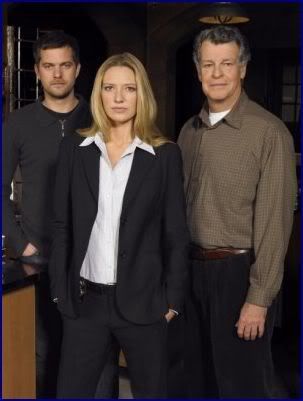 Fringe's Jackson Spills All
When we last saw
Joshua Jackson
on regular series television, he was resigned to staying in Capeside forever, even though Joey decided to choose him over Dawson.
That was more than five years ago, in the finale to the sixth season of Jackson's breakthrough series,
Dawson's Creek
.
But hold on to your rowboat: Pacey's back.
"I think he's finally going to leave the Creek after this season," said J.J. Abrams. "Really, all I love to do is make Pacey jokes."
Jackson is a regular on Abrams' upcoming Fox SF series
Fringe
, and he tells SCI FI Wire that it took Abrams to lure him back to the grind of an hourlong drama.
"It was something I have been hesitant about for the last five years, since Dawson's Creek ended," Jackson said in an exclusive interview on the show's set in New York on Aug. 26. "And, you know, the time commitment and the being-in-one-place of it all is a massive life shift, and I had a really great five years of not being on TV. But I don't know, the stars sort of aligned for this, and J.J.'s a great guy..."
Fringe premieres Sept. 9 and will air Tuesdays at 9 p.m. ET/PT. --Patrick Lee, News Editor