From
IGN
:
(Please follow the link for the complete column.)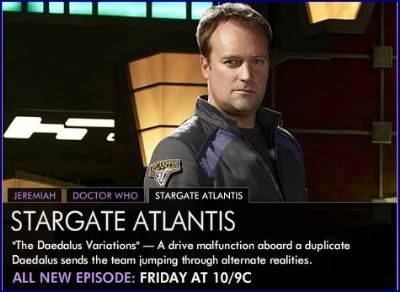 What 2 Watch
Stargate Atlantis:
"The Daedalus Variations" (SCI FI, 10:00-11pm)
You have to admire a show that is willing to title an episode "The Daedalus Variations." That's saying "We're sci-fi, deal with it." That's one of the great things about Stargate Atlantis, it's the only space opera on the air right now. It has aliens and spaceships and – well – stargates. I am not a regular viewer of this series, but I happened upon the panel for the show during Comic-Con – and I'm here to tell you there are a whole damn lot of Stargate Atlantis fans. It's a quality show with great effects and a fun cast – including the recently added regulars of Robert Picardo and Jewel Staite. If you have a hankering for some straightforward sci-fi action adventure, this is appointment TV.