From
Visimag
: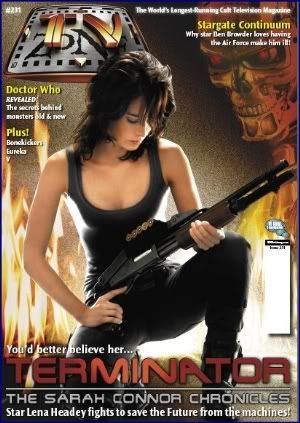 Here at Visual Imagination Ltd we're offering a new and alternative way to view our magazines, as interactive PDFs you can download for a price much less than you would pay for the printed version. Your copy will never wear out, staying as good as new.
Each PDF enables you to move from the cover and contents pages directly to the articles, and all adverts have a link to their websites.
The issues are presented in page spreads and prices quoted in US$, although they can be paid for in most currencies and by many well-known credit cards.
With our 20+ years of experience we'll be bringing you our usual mix of informative and entertaining articles and interviews.
The following issue is just a few clicks away...
TV Zone 231
Only $2.99 (print price $7.99)
TV Zone Special 82 • 100 packed pages:
FEATURING:
• Terminator: The Sarah Connor Chronicles Exclusive interviews - Star Lena Headey
• Doctor Who (2000s) Exclusive - Monster creator Neill Gorton
• V Exclusive – Star Jane Badler, aka Diana
• Stargate Continuum Exclusive - Star Ben Browder
• Eureka New Season Exclusive - Actor Ed Quinn
• Robot Chicken Exclusive – Show creator Seth Green
• Bonekickers – Star Adrian Lester
• with news, reviews and more…