At
Amazon Video On Demand
:
(Please follow the link for the complete article.)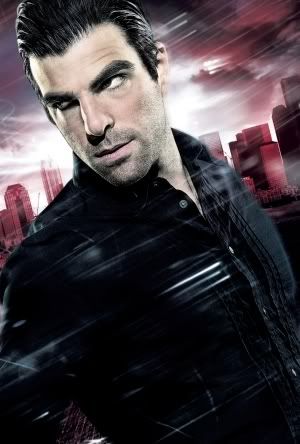 Our Heroes Q&A With Zachary Quinto (Sylar) and series creator Tim Kring
The third "volume" of NBC's hit series
Heroes
is called "
Villains
," and the defining villain of the show has been Sylar (
Zachary Quinto
), the watchmaker's son with the deadly taste for other people's powers. Recently, I had the chance to be part of a wide-ranging conversation with Quinto and Heroes creator, writer and executive producer
Tim Kring
. They talked about good and evil (not as separate as we might like to think, of course), about the impact of the writer's strike on the newest volume of episodes (and on the one that preceded it) and about how
Heroes
helped land Zachary a role in the much-anticipated movie reboot of Star Trek. Let's get into it, though, with Kring's thoughts on the upsides and challenges of widespread critical acclaim and intense fan devotion -- you know, like what
Heroes
attracted with its first season. Because of the writers' strike, Volume 2 became the whole of the second season when it was really meant to only be part of the story. The audience didn't always love it and it wasn't always easy: "You know, that is always the nature of something that hits in a big way, in a very zeitgeist kind of way. It's very hard to be shiny and new all the time. And so of course that's something that, you know, that always concerns us but there's not a whole lot we can do. We just make the story that we make. And as for how (season 2) was judged, I think, you know, the fans that really stuck with the show saw what ended up being, you know, the second -- especially the second half of that volume, you know, finally came together in the way that the first season did. In the first season, we took about eight or nine episodes before the characters even crossed paths with one another. And if you stuck with it, you were rewarded to see where that story went." Now, with Volume 3, and season 3, fans hope more rewards await. -- Stephanie Reid-Simons
My question is for Zachary but, Tim, feel free to chime in. You know, as far as Sylar goes, obviously he was the main bad guy in Season 1. In Season 2 he spent a lot of time really sort of recovering. ... It looks like he's more (involved) this year. So Zachary, what was sort of your intention for this character coming into Season 3 and are you satisfied with the scripts you've seen to this point?
(Zachary) I think that the scripts this season are just, you know, more exciting and more action-packed, and more dynamic than ever. I mean, I think it just keeps getting better and more - you know, every time I open a script it's truly a thrill. I mean, in terms of my - my approach is always the same in whatever I'm working on, is to serve the text, you know. And I think we're really fortunate to work with incredibly creative, imaginative, consistent writers that bring, you know, surprise. I can't - sometimes when I opened the script in Season 3, it's difficult to keep track of exactly where I'm going because there's so many different aspects of this character's experience this year that are drawn upon. So my approach really is just to sort of serve that and to keep track of it at the same time. But I think people will see what I mean as the season unfolds.
(Tim Kring) I wanted to kind of clarify something because it's been brought up a couple of times, this idea of Season 2 versus Season 3, versus Season 1. The truth is what you were referring as Season 2 was not really our Season 2. It was -- it turned out to be Season 2 because of the writers' strike. It was really, you know, sort of like watching a movie and having the projector break 40 minutes into it. So what we're doing now on -- for Season 3 was really going to be contained within the body of Season 2. So to the extent of a character like Sylar who spent the first volume of Season 2 without his powers, in the subsequent volumes he would've gotten those powers and all of - back and then gone on, you know, a series of adventures. So I just kind of wanted to clarify that, you know, what people are referring to as Season 2 was not by our design. It was really by the design of the fact that there was a writers' strike.