At
Movie Entertainment
(CA):
JUDE'S PLACE
Finding Sanctuary
September 2008 by Judith Klassen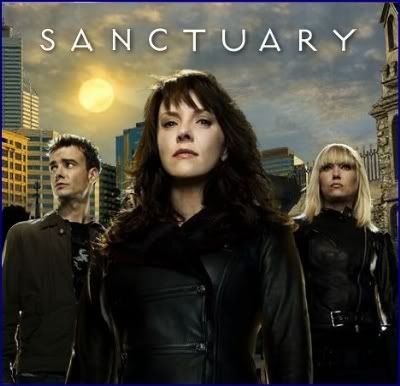 While she's best known for her role as Major Samantha Carter on
Stargate
, actor / producer
Amanda Tapping
did not spend her youth playing cowgirls and aliens. Sharp-eyed viewers may recall her hilarious turn as Lindsay Ward, the pathologically ambitious anchorwoman on
The Newsroom
. But, somewhere along the way, Amanda hopped off the comedy train and took a trip to another galaxy altogether. "I kinda fell into it," said Tapping. "I liked
Battlestar
, and
Babylon 5
, and
Star Trek the Next Generation
. But it's true; I was a
Little House on the Prairie
girl growing up. And I loved
Carol Burnett
. I was not a Sci-Fi junkie."
Hardcore sci-fi consumer or not, Tapping gets her audience. When asked why they initially created
Sanctuary
as webisodes instead of directly pitching the series to TV, Tapping explained, "We had a true sense of taking a show that lives and breathes in a certain genre to the fans where they live—which is on the internet. Sci-fi fans are an incredibly connected group. They will watch shows while they're blogging on their sites or sitting on forums. We wanted to cut out the middle man."
Tapping and her co-producers,
Sanctuary
show runner / creator,
Damian Kindler
, and Sanctuary director,
Martin Wood
, had no trouble attracting talent on both sides of the camera. Said Tapping, "What was really amazing, and it speaks to how special we see this project to be, is that so many people came on board because of the idea, and the people involved. [They] said, `We want in.'"

Sanctuary airs on Fri. Oct. 3 at 9 PM on TMN (The Movie Network in Canada) and 8 PM on MC (Movie Central in Canada).
Related Articles
Audio Interviews:
Amanda Tapping
Martin Wood
Sanctuary Trailer and Webisodes on
TMN
[NOTE: You can't access these trailers and webisodes if you're in the US)
Click here to visit the official
Sanctuary
website