At
GateWorld
:
(Please follow the link to view the video in its original format.)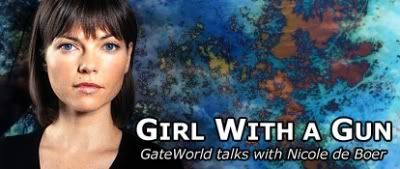 GIRL WITH A GUN
GateWorld talks with Nicole De Boer
You would be hard-pressed to be a science fiction fan and not have come across the work of
Nicole de Boer
in your television viewing. The Canadian actress has made quite a name for herself in the fantasy universe, from portrayals in
Star Trek
to
The Dead Zone
to the cult hit "
Cube
."
GateWorld got the chance to catch up with Miss de Boer at the 2008 Comic-Con convention in San Diego, California, where Nicole had recently completed filming of her first appearance in the Stargate universe in the episode "
Whispers
", portraying Dr. Alison Porter.
In our interview with the actress, Nicole discusses her involvement, both in the episode and with Dr. Carson Beckett, as well as taking us back through her whirlwind career in science fiction. We also touch on the importance of strong female roles on television and her desire to reach out to her fans.
GateWorld's interview with Nicole runs over 7 minutes. The video requires QuickTime 7.0 or higher. The interview is also available at GateWorld Play! Rather read the interview? It's also transcribed [at the link above]!
A brief excerpt:
GW: "
Whispers
," the episode you're in in Season Five, has been talked about just a little, and they say that it's kind of a spooky show. What can you tell us about your involvement?
NDB: Well from what I know it's a little departure from the usual Atlantis. It's scary, it's like a horror kind of episode. It involves a lot of fog and a lot of creepy, scary things. It involves some chicks with machine guns. Big, big guns.
GW: Something tells me Joe Mallozzi was behind that.
NDB: Hmm ... Could it be? Hmm ... [Laughter] Yes, no, he was there every day on set, plying us with chocolate. Keeping us well fed with chocolate, taking lots of pictures of us. It was a great time. I think -- I hope -- that the fans are really going to enjoy that episode. I think so.