At
Moviehole
:
(Please follow the link for the complete interview.)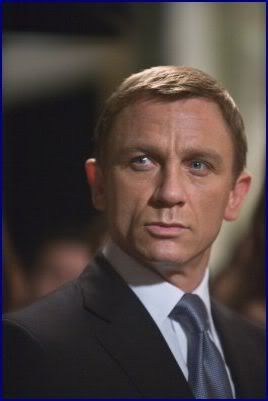 Interview : Daniel Craig
Daniel Craig
may be one of the world's hottest stars these days thanks to a certain secret agent he plays, but donning the 007 mantel hasn't been all smiles and roses.
Sporting a shoulder injury but a smile, the affable and eloquent British actor talked to Paul Fischer about the pros and cons of being the world's foremost secret agent as his latest Bond adventure, "
Quantum of Solace
", a direct sequel to "
Casino Royale
", is about to take the world by storm.
A brief excerpt:
Question: Were you surprised or knew in advance that this would be a direct sequel to a Bond movie?
Craig: It just seemed to me when we came down to it, and we all agreed that to my mind, at the end of Casino Royale, it was sort of the beginning of the story as opposed to the end of a story. He'd fallen in love, he'd had his heart broken, this organization that they'd discovered, they'd just sort of started peeling back the onion skins of. To do another movie and just sort of go, "Oh, there was this chick once," seemed to be the wrong thing to do. So it just fit. I don't know when the idea came up. I have no idea.
Quantum of Solace is scheduled for a November 14 '08 release.