At
NOW Toronto
(Toronto, ON, Canada):
(Please follow the link for the complete article.)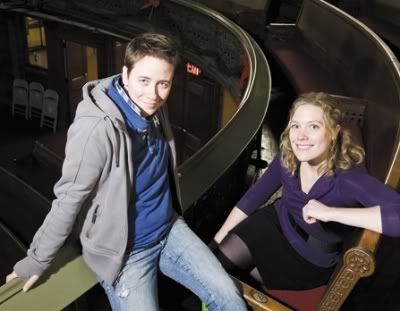 HUMANS ANONYMOUS by Kate Hewlett, directed by Andrew Hachey (Anonymous Co-op). Factory Mainspace beginning January 8.
Humans Anonymous
The Next best things
Jon Kaplan
What if the man of your dreams turns out to be a woman?
That's the surprising discovery for Ellen, the central character in
Kate Hewlett's
Humans Anonymous
.
She meets Smartypants17 on a non-gender-specific online dating service, and when she finally receives a signed email, the name at the bottom's Lenny. Oops – the sender was bright chatterbox Jenny, who accidentally misspelled her name.
"Ellen's never considered the possibility of being with a woman, and their meeting is disastrous," says Hewlett, who premiered Humans Anonymous in the 2006 Fringe and followed it with last year's hit The Swearing Jar ...
~~**~~**

Fringe of Toronto Theater Festival