At Zap2It's Kate O'Hare's
Hot Cuppa TV
:
(Please follow the link for the complete interview.)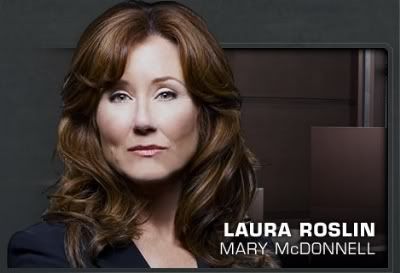 President Roslin Speaks -- Q&A With 'Battlestar Galactica's' Mary McDonnell
February 23, 2009
With only a few episodes left of Sci Fi Channel's "
Battlestar Galactica
," airing Fridays, fans will soon know the ultimate fates of all the characters -- and one of the most interesting is likely to be that of President Laura Roslin (
Mary McDonnell
).
Simultaneously battling breast cancer, leading her people on a flight across space from implacable enemies and acting as an agent of religious prophecy -- and, of late, carrying on a torrid, possibly doomed, romance with Adm. William Adama (
Edward James Olmos
) -- Roslin is the textbook definition of a well-rounded character.
McDonnell was gracious enough to answer some email questions about the show and her character. Enjoy.
A brief excerpt:
Q: There are not many TV romances between mature people. Roslin and Adama – what have you enjoyed most about playing this relationship?
A: One of the reasons that I enjoyed Adama/ Roslin so very much was the utter compatibility between Eddie and myself. There was never really a question of how do we do this. Sometimes you get lucky in your work. Ed and I had an instant and deep respect for each other that naturally grew into a fondness. I think that is what mature relationships are made of.

They are completely authentic and earned through an experience of other as partner and soul mate. The audience (both the younger and more mature) LOVED this relationship because it created hope and because it was based on total acceptance of the other person regardless of differences.