At
Total SciFi
:
(Please follow the link for complete contest information.)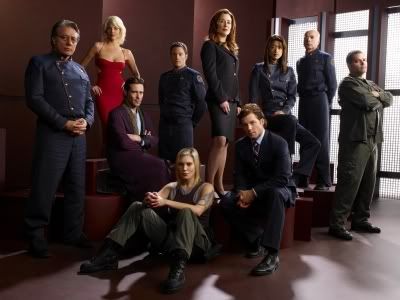 Vote for your favourite sci-fi TV theme tune – and win great prizes!
From the Theremin-laced tunes of the 1950s to the current trend for more subtle, evocative title music, science fiction shows have given us some truly great theme tunes.
But what is the greatest sci-fi theme tune ever written? Just trying to whittle it down to 10 candidates proved difficult enough, and there are undoubtedly some strong contenders that haven't made the cut.
Where, we hear you cry, is
Knight Rider
? Or
Stingray
? Or
Lost in Space
? Or
Buck Rogers in the 25th Century
? Or
Enterprise
? OK, maybe not
Enterprise
…
However, after several hours of screaming, pushing and sumo-wrestling, we have finally agreed on the following shortlist of 10 candidates. All are theme tunes that are both influential and instantly hummable, and reflect the broad range of theme tunes from the history of SF television, from The
Twilight Zone
and
Star Trek
right through to the recent reboot of
Battlestar Galactica
.
Now we want readers to let us know which is their all-time favourite theme tune from the shortlist below. And as an added incentive, one lucky random winner will bag a cinema voucher, a subscription to the Titan Magazines title of their choice and a goody bag. Your vote counts!
SCI-FI THEME TUNES: THE SHORTLIST
1)
Battlestar Galactica
(remake)
2)
Buffy the Vampire Slayer
3)
Doctor Who
4)
The Hitchhiker's Guide to the Galaxy
5)
Quantum Leap
6)
Red Dwarf
7)
Star Trek
(Original Series)
8)
Thunderbirds
9)
The Twilight Zone
10)
The X-Files
Email your choice to dwscifi@titanemail.com by 18 April 2009, after which we'll announce the poll winner on Total Sci-Fi.
Don't forget to include your name and address!
The small print
The competition closes on 18 April 2009.
The competition is open to UK residents aged 18 or over (though the vote itself is open to everyone) ...
Only one entry per person ...