At the
New York Times
(New York, NY):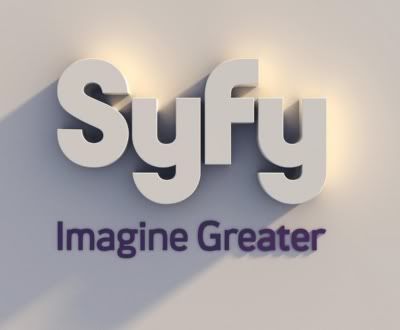 (Please follow the link for the complete article.)
Sci Fi Channel Has a New Name: Now, It's Syfy
By STUART ELLIOTT
Published: March 15, 2009
FOR years, television viewers, journalists who write about TV and services that compile listings have wondered how to refer to a certain cable network: Sci Fi Channel? Sci-Fi Channel? SciFi Channel? SCI FI Channel?
Soon, to paraphrase Rod Serling — whose vintage series, "
The Twilight Zone
," is a mainstay of the Sci Fi Channel — executives will submit for public approval another name, not only of sight and sound but of mind, meant to signal a channel whose boundaries are that of imagination. That's the signpost up ahead — your next stop, Syfy.
Plans call for Sci Fi and its companion Web site (scifi.com) to morph into the oddly spelled Syfy — pronounced the same as "Sci Fi" — on July 7. The new name will be accompanied by the slogan "Imagine Greater," which replaces a logo featuring a stylized version of Saturn.
... The tweaking of the Sci Fi name, introduced in 1992, is part of a rebranding campaign that seeks to distinguish the channel and its programming from cable competitors — 75 of which are also measured by the Nielsen ratings service.
The Syfy name is to be introduced on Monday to advertisers and agencies by executives of Sci Fi, part of the NBC Universal Cable Entertainment division of NBC Universal, a unit of General Electric.
The name will be revealed at an upfront presentation, when networks try to win commitments by advertisers to blocks of commercial time before the start of the next TV season. Cable channels will spend this month and next making upfront presentations; the broadcast networks will follow in April and May.
One big advantage of the name change, the executives say, is that Sci Fi is vague — so generic, in fact, that it could not be trademarked. Syfy, with its unusual spelling, can be, which is also why diapers are called Luvs, an online video Web site is called Joost and a toothpaste is called Gleem.
"We couldn't own Sci Fi; it's a genre," said Bonnie Hammer, the former president of Sci Fi who became the president of NBC Universal Cable Entertainment and Universal Cable Productions. "But we can own Syfy."
~~**~~**
Also:
From
Broadcasting and Cable
:
(Please follow the link for the complete article.)
March 16-22: Media Summit NY
By Stephanie Robbins
Monday, March 16
Join Sci Fi Channel for its New York City upfront presentation and cocktails starting at 7:15 p.m. at The Times Center.
.. Wednesday, March 18
Jeff Zucker, President and CEO of NBC Universal, delivers the keynote at the Media Summit New York at 9:15 a.m. at the McGraw-Hill Building in NYC.