At
GateWorld
: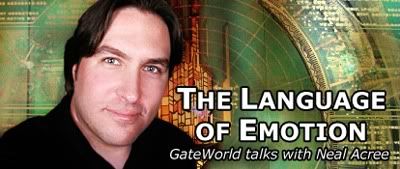 THE LANGUAGE OF EMOTION
GateWorld talks with Neal Acree
Depending on where you live and how the network on which you have watched
Atlantis
handles the end credits, you may not have been able to catch the "Additional Music by Neal Acree" tile.
Since Season Eight of
SG-1
and midway through Season Three of
Atlantis
Neal has been composing additional music for
Stargate
alongside the legendary
Joel Goldsmith
. GateWorld is proud to bring you our first interview with this young composer, who shares not only his insight into how he creates for the franchise, but has graciously shared unreleased samples of his
Stargat
e work in the audio version!
Neal discusses musical selections which originally made him fall in love with the art, his journey to composing for the franchise and, of course, some of his favorite pieces. We also discuss the growing influence of the gaming industry and what the future may have in store for new entertainment mediums.
GateWorld's interview with
Neal Acree
runs 39 minutes. Listen online at your leisure, download it to your MP3 player, or subscribe now to the
iTunes podcast
! The full interview is also transcribed [at the link above].
A brief excerpt:
GW: Tell us about the path that led you to Stargate. How'd that ball start to get rolling?
NA: A friend introduced me to Joel back in the day when I was setting up equipment and helping out other composers.
GW: What season of Stargate was this in when you were first introduced to Joel?
NA: I started right before Season Three [of SG-1]. He had just wrapped Season Two. He was moving to a new house and a new studio. I helped him move and get set up in his new studio and stayed on as his assistant, and over the years did everything from mixing to orchestrating to helping manage his sample library. Eventually ended up getting to write on the show which was a great opportunity.