An AT4 Gabit Events announcement:

With just 200 days left to the start of
AT4
, we are thrilled to announce a brand new charity auction that has just started over on the Legends Memorabilia site in aid of
Hearing Dogs for Deaf People
.
As promised at he end of AT3, Legends are running this auction to complete the funding for the eighth GABIT sponsored Hearing Dog and kick start our fund raising for AT4.
Items will be added over the next several days and the
auction
will run for about two weeks. There are lots of great items including costumes pieces, photographs from
Stargate
,
Sanctuary
and behind the scenes one offs as well as some smaller value items so do pop over and have a look. You don't have to be an AT4 attendee to bid as all items can be shipped from Canada world wide.
We'd all like to say at this 200 days to go point we are very much looking forward to seeing everyone at AT4 and we thank you for your continuing support of us and the charities who benefit so much from your generosity.
Best wishes
Becky, Julia, Kay, John, Paul, Angie and Julie
G4 & Legends Memorabilia
http://www.gabitevents.co.uk
Permission to cross post to other forums granted
~~**~~**
This very special auction gets under way at
5pm PST, April 27th, 2009
and will run for two weeks. For the first week of the sale, we shall be adding new items every day so be sure to keep checking back. We look forward to your support as we help Amanda in her drive to add at least one more dog to the GABIT kennel!
Items up for
auction
include (so far):
Autographed Stargate SG 1 Screen Worn Shirt
STARGATE SG-1 SCRIPT 'ENEMIES' SIGNED BY AMANDA TAPPING!
STARGATE SG-1 CALL SHEET 'EPISODE 8E THE TOMB'
STARGATE SG-1 CONTINUITY PHOTO SIGNED BY AMANDA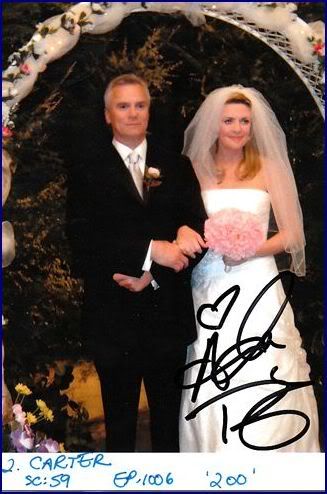 SCREEN USED GREEN BDU SHIRT SIGNED BY AMANDA TAPPING
P.A.D.S. DOG CARD SIGNED BY AMANDA TAPPING
PHOTOGRAPH SIGNED BY RICHARD D. ANDERSON & AMANDA TAPPING
STARGATE SG 1 PHOTOGRAPH SIGNED BY AMANDA TAPPING
SANCTUARY PHOTOGRAPH SIGNED BY AMANDA TAPPING