At
Total SciFi
:
(Please follow the link for the complete interview.)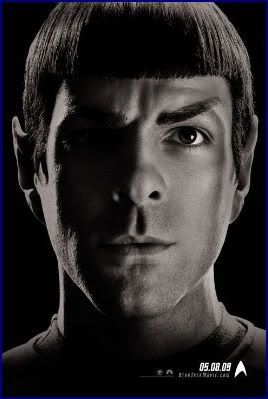 Zachary Quinto: Spock Rocking Feats
Thursday 07 May 2009
There's no doubt about it:
Zachary Quinto
has some very big ears to fill in the new
Star Trek
reboot. But, perhaps logically, the
Heroes
baddie makes for an ideal younger Spock in a performance that has earned him praise from no less than
Leonard Nimoy
.
Ian Spelling
caught up with Quinto on the eve of the nationwide release of
Star Trek
.
A brief excerpt:
The Shatner-Nimoy-Kelley chemistry was key to much of the success of the original Star Trek. How was the Pine-Quinto-Urban chemistry?
The entire cast chemistry is, safe to say, really genuine. Everybody in this movie does such a great job, it's exciting to watch. All of us came from different experiences but there was such a unity right away. And I think that comes across, I really do.



Chris [Pine]

and

Karl [Urban]

are both hysterical. I think the work Karl does in this movie is exceptional, a really, really great embodiment of Bones – he's made it his own, yet pays a clear respect to

DeForest Kelley

.

Actually everybody made me laugh my face off!

J.J. Abrams

is hysterical.

John Cho

is one of the funniest people in the world. And

Simon Pegg

- you don't come much funnier than that! This is a cast with real humour and zest – they're people who really love life.