At
GateWorld
: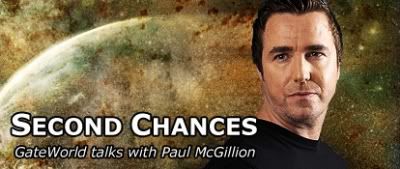 SECOND CHANCES
GateWorld talks with Paul McGillion
GateWorld hasn't spoken with
Paul McGillion
since his surprising return to
Atlantis
in Season Four's "The Kindred, Part 1." Since that time, the series has been canceled and a new show is in production. Needless to say there is much to discuss!
Paul updates us on his current projects, from his cameo in the new "
Star Trek
" movie to a developing indie film with a friend. We chart our way back through the last two and a half seasons, starting with "
Sunday
," all the way through to "
Enemy at the Gate
" (Beware minor SPOILERS for this episode!) and the fall and rebirth of Atlantis's cowardly lion.
The interview runs 31 minutes, and is available in video, audio, and transcript form! The video version is available in Flash format at
GateWorld Play
.
For the audio version you can listen online at your leisure, or download it to your MP3 player.