At
Titan Magazines
:
(Please follow the link for the complete description of Stargate Magazine issue 31.)
STARGATE MAGAZINE ISSUE 31
- On sale October 27 '09
EXCLUSIVE! Free Magazine!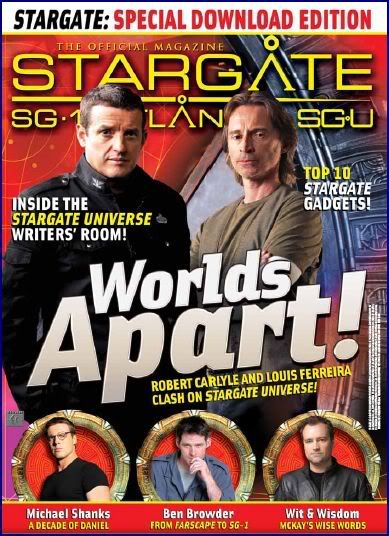 Get a taste of the official
Stargate Magazine
with an exclusive download edition (PDF file, 1.9MB). Check out our guide to the new show, go inside the writers' room, read interviews with stars
Robert Carlyle
and
Louis Ferriera
, and much more! Either print it out or browse on screen.
Download now
Save up to 15% on the cover price when you
subscribe
to the official
Stargate Magazine
, and get every issue delivered to your door.
NEWS
WIN A MONEY-CAN'T-BUY STARGATE PRIZE!
OK, so we can't announce what it is yet, but
Stargate Magazine
can confirm that we will have an amazing money-can't-buy Stargate prize to give away very, very soon. We'll be announcing the prize draw via our monthly ezine, featuring the latest news, offers, exclusive content and sweepstakes. To make sure you don't miss out on your chance to win, sign up
here
.
New issue on newsstands now!
As well as offering essential coverage of the latest stunning entry in the Stargate franchise,
Stargate: Universe
, the latest issue of Stargate Magazine has a special Villains theme, and features an interview with
Cliff Simon
, the actor behind, officiallly, Stargate's most sinister character. The powerful System Lord has beaten off competition from Michael Kenmore, Todd, Adria, and Anubis to be voted top Stargate villain by readers of http://www.TotalSciFiOnline.com and the official Stargate Magazine.
FEATURES
The Universe Interview – David Blue
Securing a regular role in
Stargate Universe
, actor
David Blue
found himself on a journey that took him far from his usual televisual stomping grounds. In the latest issue of
Stargate Magazine
, Blue gives us the lowdown on the Universe experience and discusses what makes his character Eli Wallace tick: "Eli knows he's smart. He's not a genius in that he was born an Einstein, but he can figure things out and see patterns in things. One of the reasons I think he has a good sense of humor is that he can see patterns in the world and find the humor in certain things. That's who Eli is, and because he applied his intelligence to random things, he never truly found his way."
The SG-1 Interview – Cliff Simon
From his first appearance, it was obvious that Ba'al was the villain of SG-1's nightmares – and it's no surprise that he's just been voted the Stargate franchise's best ever bad guy! Cunning, manipulative, and dangerous, he tormented our heroes to the last. The man behind the evil grin,
Cliff Simon
, recalls his reign of intergalactic villainy in the latest issue: "I loved it – the minute I put on the beautiful costumes that they made for me, Ba'al's boots and all that kind of stuff, I just fell into the character – he really became a part of me. I think it was perfect – everything about it was just right. I could have carried on playing that character for another 10 years!"
Know your enemy: Villains of Stargate
There have been a variety of threatening groups hoping to wipe out the men and women of Stargate Command and Atlantis, or failing that, to take over their planet/galaxy/place of work. Marking a special Villains issue of
Stargate Magazine
, we present a guide to the best (and worst) Stargate villains. Plus, we take an inside glimpse of the workings of evil organization the N.I.D., complete with bonus notes from Richard Woolsey and General O'Neill...