At the
People's Choice Awards
:

Voting is underway for the 2010 People's Choice Awards.
There are three section: Movies, TV and Music.
In the TV section, there are these sub-categories that SGU could be nominated in (as type ins):
Favorite Sci-Fi/Fantasy Show
Favorite Drama
Favorite TV Actor
Favorite TV Actress
Favorite TV Obsession
Anyone over the age of 13 can register to become a member of People's Choice. At this time they do not accept zip codes outside of the US and Canada. If you are from Canada, please enter your postal code without a space.
You can vote for your favorite nominees as often as you like. Voting ends on December 8, 2009.
The People's Choice Awards show will air live on January 6, 2010 on CBS
Further information on the
voting
process.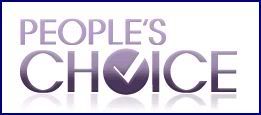 Stargate Universe airs 9pm Fridays on SyFy.