At Canada's Space Channel's
Innerspace
: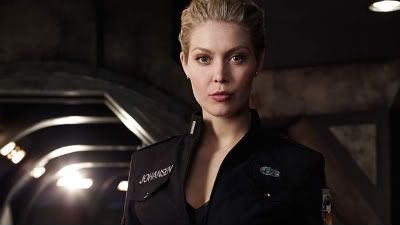 InnerSpace recently spoke
Alaina Huffman
who plays Lt. Tamara "TJ" Johansen on
Stargate Universe
from her home in L.A. She is one smart lady and had tons of great stories on the show and the SGU family she's worked with in Vancouver. Listen to the interview
here
.
Thanks for all the fan questions, everyone! I had a chance to bring Alaina your Q's on her favourite episode (@CraigRMacDonald, Twitter), whom she'd like to inhabit with the communication stones (@Andew James Scott, Facebook), and Whether she'll appear again on
Smallville
in the role of Black Canary (@Ron Graham, Facebook).
Alaina also gave a great response to those who crave stronger actions from the female characters. Now go give it a
listen
and watch Alaina's favourite episode of Season 1, Time, this Friday at 10ET/7PT.