At
Imagine Publishing
:
(Please follow the link for more information on the magazine's contents. On the cover, the magazine also mentions 'Spoiler Alert' for SGU.)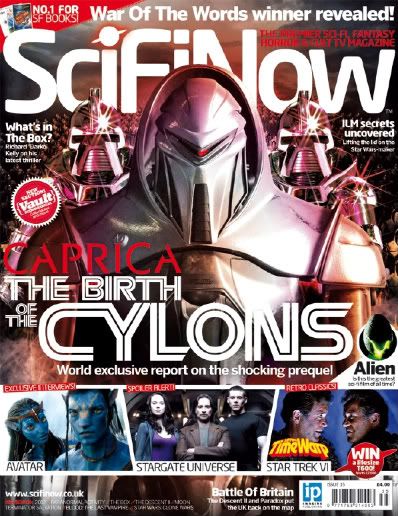 SciFi Now #35 now on sale!
IN THIS MONTH'S PISTON-POWERED ISSUE:
-
Caprica
– Go behind the scenes of the highly anticipated prequel to
Battlestar Galactica
, as we speak to the key people involved with its creation.
-
Avatar
–The best preview for
James Cameron's
game changer comes to you courtesy of SciFiNow, featuring exclusive interviews and industry insight.
- Interview:
Kevin Smith
– We chew the fat with one of the genre's most prominent geeks, talking about his career and what he's got planned for the future.
- T
he Box
–
Richard Kelly
returns to the big screen with his latest outing, but can he make up for the disappointment of
Southland Tales
? Read our exclusive interviews to find out.