At
Total SciFi Online
:
(Please follow the link for the complete interview.)
David Blue: All Across the Universe
Posted on Tuesday 03 November 2009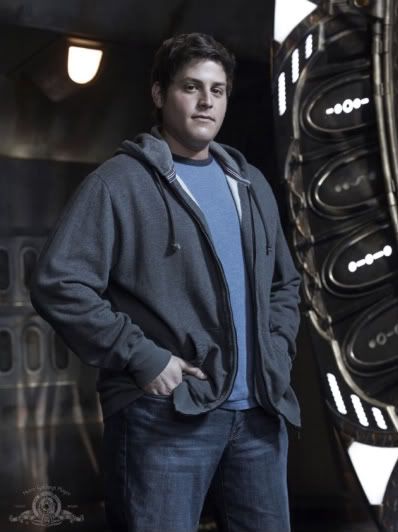 From vampires to fashion photographers,
David Blue
certainly likes to cross genres when it comes to his television credits. Now he can be seen crossing galaxies as the character of Eli Wallace on Sy-Fy's newest incarnation of the Stargate franchise,
Stargate Universe
.
Abbie Bernstein
met up with Blue to chat about his latest role…
A brief excerpt:
Did you have any opinions about your Stargate Universe cast mates – Robert Carlyle, Lou Diamond Phillips or Ming-Na – before working with them?
Absolutely! I watched ER from Season One to the end, and Chun Li in Street Fighter – oh, my God! – so I love

Ming-Na's

work.

Lou Diamond Phillips

– I've been giving him crap, because everyone remembers him as Richie Valens [in

La Bamba

]; the truth is, I remember him from

Stand and Deliver

.

Robert Carlyle

–

24: Redemption

,

28 Weeks Later

,

The Full Monty

,

Trainspotting

– some of my favorite movies!

So as I always tell people, it's not like the casting sold it for me, but it was the icing around the cake. I not only get to play a good role with an amazing script that drew everyone to it, but I get to work with these people, which is like a gift.

Stargate Universe
is currently airing on Sy Fy in the US and the Sci-Fi Channel in the UK.
Click
here
to find out all the latest Stargate news with the official Stargate Magazine.