From
Joseph Mallozzi's blog
update for March 9, 2010:
(Please follow the link for the complete blog update and to view ALL the artwork in its original format.)
New SGU Trailer Update! Stargate: Universe Art Department Package Highlights for Air 1-3! Guess the Episode Titles – Round Two!
... Wow! Just watched the studio promo for the fast-approaching back half of
Stargate: Universe
. Shortly after the first cast read-thru of the season, we all crowded into the writers' room to watch the 90 second trailer – and were blown away.
Patrick Gilmore
, aka SGU's Dale Volker, actually had goosebumps (he showed me). Plenty of glimpses at what we have in store for SGU's return including action, adventure and – wait for it…aliens!
Not exactly sure when the trailer will hit the net, but if you're curious, ask the mastermind behind it:
http://twitter.com/greymunford
As we speed toward the April 2nd premiere of the second half of
SGU's
inaugural season, I thought it might be fun to dip into the archives and take a peek at the Art Department packages assembled for what has come before. Check out the concept art, the schematics, and build your own Destiny! First up, the three-parter that kicked off the series: Air…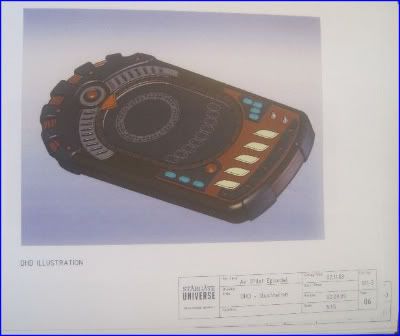 DHD – Stargate: Universe, Season One, Air. A little different than you remember it? Well, this one is portable. You'll get a better look at its operation in episode 15, Lost.
... Tomorrow, we explore the shuttle and Icarus Base.
And finally, let the guessing continue…
Episode #6: **** *N* *****
Episode #7: T** ******* ****
Episode #8: *A****
Episode #9: ???
Episode #10: *E********
<<**>>
Courtesy of
thebattlecruiserlll
on You Tube: