At Chicago Now's
Show Patrol
(Chicago, IL):
(Please follow the link to read the complete Show Patrol interview.)
Brad Wright: Action-packed destiny for 'SGU 1.5'
by
Curt Wagner
on 03.26.10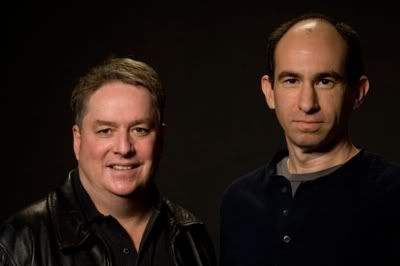 Brad Wright and Robert C. Cooper
Brad Wright
admits to mistakes in early episodes of "
Stargate Universe
," but he believes
"SGU 1.5
" will convince disillusioned fans to stick with the latest edition of the long-running franchise.
"I think the second half of Season 1 is strong, or stronger, and certainly answers some of the criticisms that have been thrown toward the show," Wright told me during a conversation around the time the "
SGU
1.0" DVD set dropped.
I'm thinking critcs will change their minds about the show, which returns at 8 p.m. April 2 on Syfy. After viewing the first two episodes of "
SGU 1.5
," I have even more admiration for producers
Wright
,
Robert C. Coope
r and their entire crew in Vancouver. The episodes--"Space" and "Divided"--are action-packed yet keep the sinister, is-my-shipmate-my-enemy tone that the team established solidly in the first half of the season.
The new episodes expand the "Universe," which, as Wright explained, is only possible after the dramatic foundation that was built earlier in the season.
"Robert and I strongly felt that for us to say we're doing a character drama--at the very beginning especially--we have to engage with the characters and have them interact in a big, big way," Wright said. "And then once we know them very intimately--as we do now I think--we can put them in an action-adventure, jeopardy situation. When you know them as intimately as we do now, it's easier for you to care about the stakes, or the ramifications of what's going to happen."
Wright and I talked more about where the Destiny has gone and where it's going, but I also wanted to address the criticisms launched at the show. He was honest and candid in his answers, admitting that the female characters at the beginning "weren't as present," but said he never dismissed the concerns of fans...
Also at
Show Patrol
:
(Please follow the link for the complete article.)
Spoiler alert: Brad Wright talks 'Stargate Universe 1.5'
We've already seen plenty of aliens in the first part of "
Stargate Universe
" Season 1. Remember the sperm-looking thingies on the planet in "Time" and the swarm from "Air" and "Water"?
Brad Wright
and crew have even more surprises in store when the show comes back at 8 p.m. April 2 on Syfy. If you haven't seen the MGM trailer above, or read anything on the Internet: Stop reading! Otherwise, enjoy this portion of my chat with Wright ...