At Blog Talk Radio's
Mr Radio Interviews
:
INTERVIEW: Ming-Na, star, STARGATE UNIVERSE
4/1/2010 - 30 min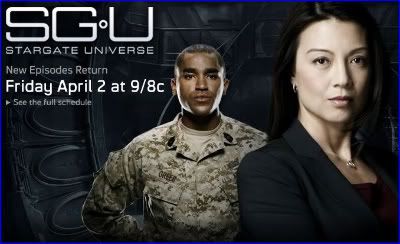 Ming-Na brings her natural hotness to SyFy's

Stargate Universe

… and Mr. Media!
I always dreamed there would come a day when I would meet the lovely actress
Ming-Na
. But I thought it would be in a smoky, out of the way bar, we'd both be single…
I'm sorry—where was I?
Most of us probably remember
Ming-Na
best from her run as a young doctor on the long-running NBC medical drama,
ER
. Or, if you've got a daughter, like I do, you've probably sat through the Disney animated films
Mulan
and
Mulan 2
a couple hundred times. That's right,
Ming-Na
was the voice of the heroic
Mulan
.
More recently, she did an eye-popping arc as one of
Charlie Sheen's
love interests on
Two and a Half Men
, which somehow led to her joining the star-filled ensemble of SyFy's new series,
Stargate Universe
. New shows begin airing Friday, April 2 @ 9 p.m.
MING-NA AUDIO EXCERPT: "As much as I'm proud to be part of the Disney legacy as 'Mulan,' I'm also proud to be one of the Charlie Harper women–that legacy. We're acting, we're working. And even though we're in bed together, it's just part of our crazy, crazy job."