At
TV Guide Canada
:
(Please follow the link for the complete interview.)
Like father, like son
By
Amber Dowling
2010-05-14
Colin Hanks admits frustration over looking like his dad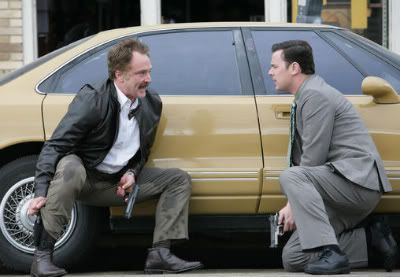 Bradley Whitford and Colin Hanks
Just because you're the son of an international superstar who has more accolades under his belt than you have years doesn't mean life is going to be easy, especially if you're going to follow in his footsteps.
It's hard not to notice how much
Colin Hanks
resembles, talks like and even acts like his father, Tom, and it's something that's been a source of frustration for the younger Hanks since the 32-year-old broke into an acting career.
But now with new Fox cop dramedy
The Good Guys
on the horizon and a wedding ring on his finger, Hanks might have found a role to break free from his father's shadow. (Check out our feature story on the show and co-star
Bradley Whitford's
awesome moustache
here
.)
TVGuide.ca caught up with the actor at the Television Critics Association press tour in Pasadena, Calif., this past January to chat about his genes, his stint on
Mad Men
, and of course, being a "
Good Guy
."
A brief excerpt:
TVG: In all seriousness, I know I cracked a joke earlier about how much you look like your dad, but is there a frustration for you in having a famous father and trying to break out on your own?
CH: Well, I could get frustrated all I want, but it sure as hell isn't going to change anything. It sort of is what it is and there was a period there where it became extremely frustrating because it was never a big issue for me, and so to constantly have it come up, I sort of felt like, 'Yes, that's fascinating. I've been doing this for a while now,' as I got older and it kept coming up. I know it's interesting for people and there's really nothing I can do about it. There's nothing I really need to do about it.
Courtesy of Fox Broadcasting's
You Tube
channel:
Don't miss a special preview of The Good Guys, WED 5/19 at 8/7c, on FOX!