At
Eclipse Magazine
:
(Please follow the link for the complete article.)
HOLLYWOOD INSIDER: Warehouse 13 Creator

Jack Kenny

Delves Into Season 2!
May 29th, 2010 · Posted by:
Sheldon A. Wiebe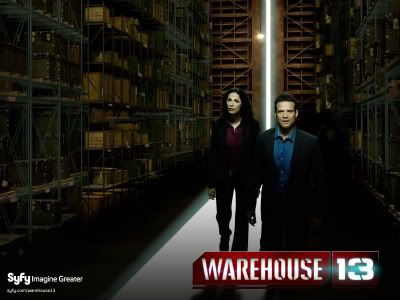 Warehouse 13
came out of nowhere last summer to become Syfy's most successful series ever. Built around the concept of a warehouse for storing artifacts with unusual, even supernatural, abilities – and the Secret Service agents who are assigned to bag, tag and store those items, the show's mix of buddy show, weird procedural and eccentric character studies was an instant hit.
This week,
Warehouse 13's
creator/showrunner
Jack Kenny
took some time from shooting season two to talk about the show's conception and what lies in store for the upcoming season.
Warehouse 13
returns to Syfy on July 6 [9/8C].
A brief excerpt:
Well as a follow-up to that, do you feel any pressure or the need to go darker like other Syfy franchises? Like
Battlestar Galactica
or
Stargate Universe
?
Kenny: "Well, they're – I think they're darker in a different way. I mean, you know, we definitely want to examine dark issues. We don't make it a light frothy comedy. We – last year in an episode, we examined Pete and Myka's guilty past and what they're guilty about. Pete about his Dad and Myka about the man who died on the mission she was on.

And so, we don't – I – well I would – certainly don't want to avoid dark issues or emotional issues, on the contrary, we'd like to dive head into those. But, I also feel like we can mix it with the comedy of the moment. Not jokes per se, but situational comedy, character-based comedy, but I don't think – because

Battlestar

and – is a – it was a darker world, it lends itself to a darker feeling. Ours is – I mean, the advantage our show is we go everywhere.

We're doing some episodes this season that have very dark overtones, and some that have very light overtones. We're doing a body switching episode that, you know, you can't avoid having a light overtone to it, even though there is a danger element involved. And then we're also doing a very heavily – you know, heavily emotional episode near the end of the season.

So, we kind of cross all the vectors..."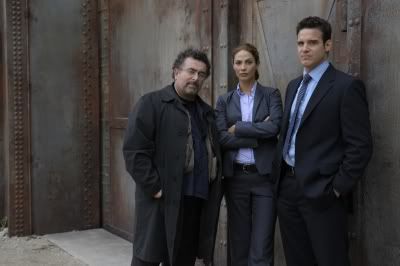 Saul Rubinek, Joanne Kelly and Eddie McClintock