At
TV Guide Online
:
(Please follow the link for the complete interview.)
Gates Star: Next Episode Will Be "More Dark and Intense"
Jun 24, 2010
by
Gina DiNunno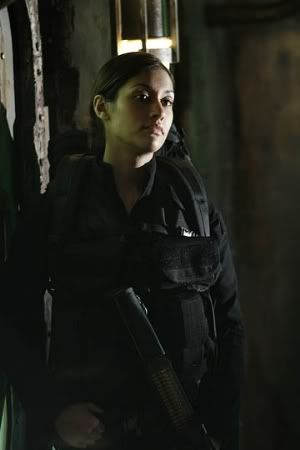 Janina Gavankar from

Stargate Atlantis'

"Whispers."
After last week's premiere of ABC's
The Gates
, it's clear that there's more to the show's upscale community than white picket fences and soccer moms. There's the high school teen who needs to keep his anger in check so he doesn't accidentally turn into a werewolf. Then there are the witches who work their magic under the guise of holistic remedy makers. And let's not forget the married vampire couple, the Radcliffes, who've already drained and dumped one unfortunate contractor.
Could there be even more otherworldly residents lurking in the picture-perfect neighborhood? Turns out Deputy Leigh Turner may have also something to hide. Actress
Janina Gavankar
reveals how things are amped up in the next episode (Sunday, 10/9c), what her character is up to, and why she thinks
The Gates
is unique from other supernatural shows.
A brief excerpt:
TVGuide.com: With all the supernatural shows out there, what makes The Gates unique?
Gavankar: One of the reasons why this is such an interesting show to me is because we put a very human spin on a supernatural theme. It's a great analogy for the immigrant experience. There's the idea of leaving everything behind and trying to make it and assimilating. These really big universal themes that we play with are human conditions. There really is something in it for everyone. The parents are going through normal parental issues. There's the younger high school element. Puberty sucks and everyone feels that they're different in high school. But that, coupled with having to worry about your hormones because you might have a werewolf flare and turn in the middle of homecoming? That's awkward!