At
Cinema Spy
:
(Please follow the link for the complete article.)
Redressing the Balance: How 'Stargate Universe' Won Me Over
Why one '

Stargate

' fan didn't stop watching '

SGU

' after all.
By
Michael Simpson
| Tuesday, June 15, 2010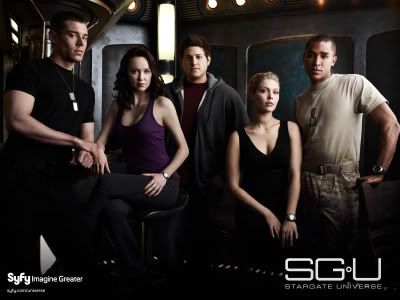 Seven months ago I was not expecting to say this:
Stargate Universe
has been one of my favorite shows on TV this year. That is quite a turnaround from November 2009. Then I wrote an article for CinemaSpy titled
Why One Stargate Fan Has Stopped Watching 'Stargate Universe'
. I said I'd had enough of unsympathetic characters and soapy subplots, with too little action, humor and meaty drama. I said that
'Life'
would probably be the last episode I watched.
Thankfully it wasn't.
Stargate Universe
ended its first season last Friday. In the last 10 episodes it has started looking like the series I hoped it would be. With a few exceptions they were exciting, dramatic and thought-provoking. As a result
SGU
unexpectedly became an essential part of my weekly viewing schedule. After writing off the first half of the season, I think it's only fair that I redress the balance...