From Joseph Mallozzi's
blog update
for June 15, 2010:
(Please follow the link for the complete blog update.)
Remi Aubuchon

Answers Your Questions!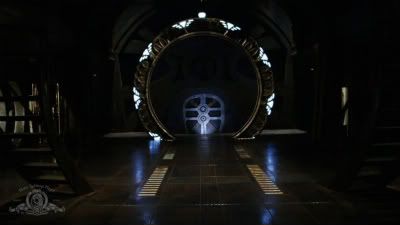 Today, it gives me great pleasure to turn this blog over to
Stargate: Universe
Executive Consultant and Resident Deputy Fire Marshal
Remi Aubuchon
. Remi joined the writing staff for the show's second season, the happy result of a snafu with the Rauschepfeifes and Rebecs for Ragamuffins program that saw him land on our office doorstep instead of the underpriviledged youth originally scheduled to study the fine art of minstreling under my tutelage. Instead of seven year old Achille Zogbo, we got a guy who created the critically acclaimed
Lyon's Den
, co-created the
Battestar Galactica
spin-off
Caprica
, executive produced
Summerland
,
Wildfire
, the aforementioned
Lyon's Den
, and
Persons Unknown
(airing Monday nights at 10:00 p.m. on NBC), co-executive produced on
24
, and wrote the
Caprica
pilot in addition to innumerable scripts for shows like
Providence
,
Chicago Hope
, and the
Tom Hanks
-produced HBO series
From Earth to the Moon
. And he also plays a mean hirtenschalmei!
Well, things worked out for everyone. I'm thrilled to have Remi on board and, last I heard, young Achille had landed a staff job on CBS's
The Good Wife
.
So enjoy Remi's Q&A, and then stick around (a.k.a. "keep reading") for yet another special guest blogger announcement ...
[NOTE: The next guest blogger is actress
Jennifer Spence
(Dr. Lisa Park) - please submit any question for Ms. Spence on Mr. Mallozzi's blog.]
DP writes: "Q's for Remi: Are yo a freelancer or on staff?"
RA: I am on staff — my title is Executive Consultant. I have no idea what that title means, but sounds fancy doesn't it?
"What rules did you have to follow in writing your spec scripts that you get to relax on while writing SGU for pay?"
RA: What's great about working on an established show, where the characters are defined is that you don't have to worry about that work and just concentrate on the story. Working on pilots is hard work because you are creating the whole world, the rules, the dynamics, etc., etc. out of whole cloth — that work has already been done by the likes of Joe Mallozzi.
... "Space dolphins – what's so bad about that?"
RA: Personally, I love space dolphins and was shocked and horrified to realize they were just kidding.
"What sea creature would you like to see in space?"
RA: Giant squid. First of all, the Destiny crew's food troubles would be over: calimari for at least a year...
... A huge thanks to Remi for taking the time to come by.