At
TV Guide Online
:
(Please follow the link for the complete column.)
Tonight's TV Hot List: Friday, June 4, 2010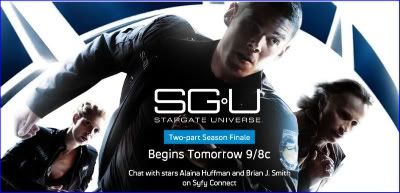 ...
Stargate Universe
9/8c Syfy
The crew wouldn't worry so much about the arrival of new passengers if this was the Love Boat. Col.Telford (
Lou Diamond Phillips
) gets deprogrammed from some bad-guy brainwashing and tells the Destiny that the Lucian Alliance is preparing to throw a little boarding party. With any luck, Gen. O'Neill's preemptive strike will derail their plans in the first part of the two-part tale. —
Michael Chant
Stargate SG-1's

Richard Dean Anderson

(Lt. Gen. Jack O'Neill) and

Amanda Tapping

(Col. Samantha Carter) guest star!