At
TV Guide Online
:
(Please follow the link for the complete article.)
Keck's Exclusives: Warehouse 13's Bionic Shipment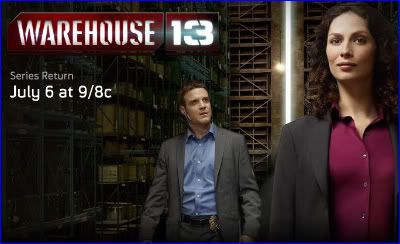 How's this for perfect casting? Syfy's
Warehouse 13
, centered around the U.S. government's secret stash of supernatural objects, has cast TV's original government-owned-and-operated superhero.
Lindsay Wagner
, who won an Emmy for playing
The Bionic Woman's
Jaime Sommers, pops up in the Aug. 17 episode as Dr. Vanessa Calder. "She's the official doctor for Warehouse agents. She is quite worldly and knows lots of secrets," says the actress. "My youngest son is a real fan of this show, so he thinks it's so cool..."