At
DVD Review
(UK):
(Please follow the link for the compete interview.)
Interview: Stargate Universe's

Ming-na
Wednesday July 07, 2010
by
Matt Chapman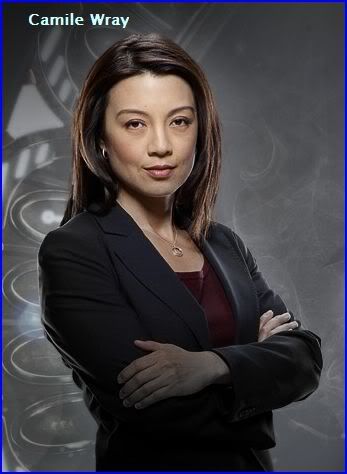 A brief excerpt:
Your character, Camille Wray, is a bit of an audience splitter. She's caught between the civilians and the military, tries to be a peacemaker and it doesn't work out...
MN: "It's interesting because this is the first character where I've had to find and justify her... political ambitions, let's say. She manipulates but to, I think, the good of the civilians. So she will manipulate situations or befriend whomever she needs to get everyone home. Ultimately her ambition is a good one, because she wants to get home! But sometimes, yes, it clashes with the military and it causes mutinies. I think it's great fun! Nothing like a little mutiny to get things going! [Laughs]"