At
TV Guide Online
:
(Please follow the link for the complete column.)
Ask Matt: The Glades, The Gates, Mad Men, Hawaii Five-0 and More!
Aug 23, 2010
by
Matt Roush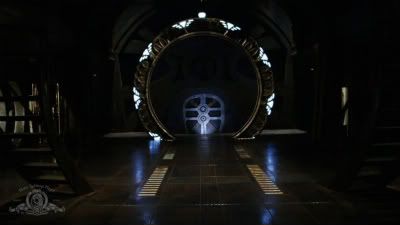 ... Question: I've finally finished the first season of
Stargate: Universe
, and I'm curious about your thoughts on it (and whether you thought it was worth watching, as I don't remember reading anything about your opinion of it).
Stargate: SG-1
was much lighter and had a sense of humor that was usually near the surface, and we'll just pretend
Atlantis
was a bad dream. However,
SG:U
seems like an attempt to shoehorn the Stargate mythology into the dark style and brutal sensibilities of
Battlestar Galactica
. Don't get me wrong, I was entertained by the first season and will keep watching, but it's a departure from what the franchise was, and the melding of the SG mythos with the BSG style results in the proverbial machine that knows all the words but can't quite get the music right (if that makes any sense). However, I can't fault it for providing an unexpected reboot of the franchise, and if I only watched shows as good as
BSG
, then I wouldn't be watching much. Also, I said I'd watch when it comes back, but I guess that's making a pretty big assumption: Has it been renewed? — Mike
Matt Roush: Yes, it will be back, with the second season starting Sept. 28 — in a new Tuesday time slot, now that Fridays on Syfy have been turned over to wrestling this fall. (Don't get me started.) It's one of my so-far-fruitless goals to catch up with the second half of the Universe season before the new episodes begin. Your reaction of the show feels pretty spot-on to me. There's no question its tone is darker and harsher than the Stargate norm, and I got the sense many franchise fans were turned off by its relentlessly downbeat nature. I'm certainly intrigued by it, but the fact that so many episodes remain unwatched on my DVR tells me that either my priorities are out of whack or it's not a world I'm particularly eager to keep exploring. For now, though, keeping an open mind, and even if I end up jumping into the second season without completely finishing the first, I'll try to give it a shot.