At
SciFi Now
:
SciFiNow #44 now on sale!
by
James Rundle
Star Wars, Star Trek, Warehouse 13 and more…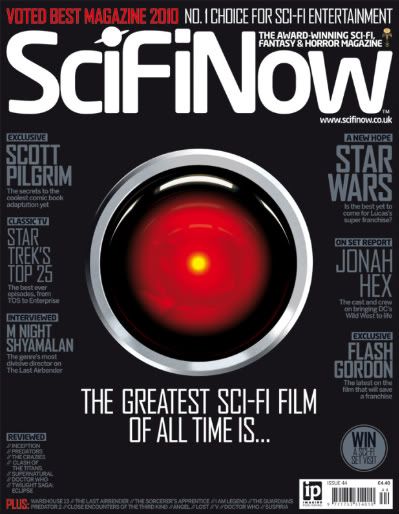 IN THIS MONTH'S INTERGALACTIC ISSUE:
- The Greatest Sci-Fi Film Of All Times Is… – The votes are in, the data's been mined, and we're ready to reveal your choice for the best science fiction film. Ever.
-
Jonah Hex
– We go behind the scenes of
Jimmy Hayward's
Weird West adventure.
- 25 Of The Best
Star Trek
Episodes – From James T Kirk to Janeway, we've selected some of the finest offerings from
Gene Roddenberry's
creation.
-
M Night Shyamalan
– SciFiNow sits down with the
Last Airbender
director and talks about the film,
Harry Potter
and his career.
-
Warehouse 13
– Executive producer
Jack Kenny
takes us behind the scenes of every
Warehouse 13
episode to date, in our signature guide.
-
Star Wars
– We have an in-depth look at what's coming up in a galaxy far, far away.
Also included:
- The complete guide to
Lost
.
- Retro Classic on
The Guardians
.
- Examining sci-fi in 1977.
- Huge SF/F literary section with author interviews.
- Dedicated memorabilia section.
- And much, much more!
This issue of SciFiNow is on sale from 5 August 2010. Order online at
http://www.imagineshop.co.uk
.