With many thanks to Captain Pegasus at GateWorld Forums for the heads up!
http://forum.gateworld.net/showthread.php?t=46957
From EBAY:
http://cgi.ebay.com/ws/eBayISAPI.dll?ViewItem&item=290160335842&ssPageName=ADME:B:SS:US:1
(Gorgeous photo of RDA signing the duffle bag at the site, plus other photos!)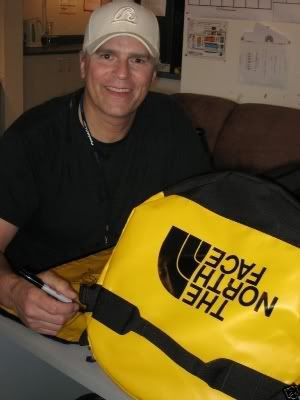 Current bid: US $389.99
LIMITED EDITION - ONLY 2 IN EXISTENCE!
The Cast and Crew of Stargate SG-1 are auctioning two Authentic North Face Base Camp Duffle Bags which were used during the Arctic shoot for the new Stargate movie titled "CONTINUUM".
Both of the bags have been autographed by:
Richard Dean Anderson (seen signing one of the bags) - "O'Neill"
Amanda Tapping - "Carter"
Christopher Judge - "Teal'c"
Michael Shanks - "Daniel"
Beau Bridges - "Landry"
Martin Wood - Director
Brad Wright - Executive Producer
Robert Cooper - Executive Producer
N. John Smith - Executive Producer
John G. Lenic - Producer
All money raised by the sale of these two bags will be donated to The Canadian Society for Mucopolysaccharide & Related Diseases Inc. in support of Trey Purcell, son of crew member, Ryan Purcell. Trey is a beautiful 3 year old boy who suffers from an illness called MPS II or Hunter's Syndrome, a Lysosomal Storage Disease that inhibits the body's ability to break down and recycle specific mucopolysaccharides. Trey's dad, Ryan, works in the Camera Department as a Steadicam Operator, and is currently working on the television series, "Stargate Atlantis".
MPS II is a disease characterized by the buildup of certain enzymes in the body which interfere with body's cell and organ's ability to function.
There is no cure for MPS II. Stargate SG-1 wants to help find a cure and asks for your help in finding a cure. Go to
http://www.treypurcell.com
for more information on Trey and his family's journey to finding a cure for MPS II.
The North Face Duffle Bags were used during Stargate SG-1's trip to the Arctic to film scenes from the new movie "Continuum".
The bags are bright yellow and are made from PVC Tarpaulin. They are extremely durable and water repellent.
The bag's dimensions are: 28" x 16" x 16"
Cargo Capacity: 90 litres
Weight: 4 lbs
These bags are used for expedition travel and are equipped with many special features including:
- Shoulder straps which let you carry the bag as a back pack
- Dual daisy chains for attaching excess gear
- A zipper flap which prevents moisture from getting into the zipper
- ID pocket on the top (see picture)
- Internal mesh pockets to hold smaller items
There will be no charges for the shipping of the bag (world wide!)
Payment for the bag can be made through PayPal or Money Order.
TO DONATE TO THE CANADIAN SOCIETY FOR MPS II OR TO LEARN MORE ABOUT THIS DISEASE, PLEASE VISIT TREY'S WEBSITE:
http://www.treypurcell.com