From Titan Magazines, the web site for Stargate The Official Magazine has been updated to reflect the content of Issue # 18:

http://www.titanmagazines.com/app?service=external/Product&sp=l12
(Please follow the link for the complete details. Photos at the site.)
ISSUE 18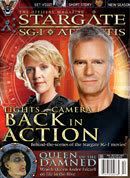 NEWS
STARGATE HEAVEN
COOPER OPENS THE ARK
Features
STARGATE AT THE NORTH POLE
DAYS OF WRAITH
THE A TO Z OF SAMANTHA CARTER
ISSUE SPOTLIGHT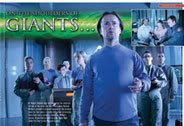 SCIENCE OF GENIUS
Meet the man behind Dr. Radek Zalenka, David Nykl. He may not always be the smartest guy in the room, but that's only when Rodney McKay's around! A valuable member of the science team for four years, Zalenka is Team Atlantis' quieter genius. Talking technobabble and much more, Nykl reveals all about his time in the Pegasus Galaxy.
EXCLUSIVE EXTRAS
EXCLUSIVE FICTION
K-T : SG-1 are on a mission to the Cretaceous era – can they make it back to the future before the extinction of the dinosaurs?
MISSION DEBRIEF
Meridian: We relive the mission you voted Stargate SG-1's top tearjerker, as Daniel bows out in the season five finale.
LEVEL 28
Think you're SGC material? Take our quiz to find out if you really are the best of the best…
COVERT OPS. HANDBOOK
Our guide to all things covert. This issue, Jack O'Neill explains how best to deal with Rogue Operations…
POSTERS
Time to redecorate? Choose between the lovely Michael Shanks and the charming Joe Flanigan!
COMM CHATTER
Readers have their say on the end of an era, and the loss of Dr. Beckett…
SUBSCRIBE NOW AND SAVE...
http://tinyurl.com/yqqym2