From GateWorld:
http://gateworld.net/interviews/warrior_within.shtml
(Please follow the link for the complete GateWorld text interview.)
WARRIOR WITHIN
GateWorld talks with Jason Momoa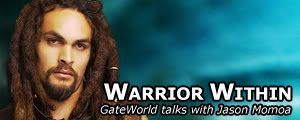 It's been three seasons since Jason Momoa joined the cast of Stargate Atlantis and in that time we've learned a great deal about Ronon Dex's past, his motivations and his loyalty to his comrades. Fortunately for viewers, the recent renewal of the show means even more of the character will be explored for at least one more season!
GateWorld recently had the opportunity to talk with Momoa about some of the more recent updates, including fighting alongside fellow Satedans in "Reunion," his recent hair style change, and fun off-set with his fellow cast members.
Jason also takes time to explore possible outcomes for Dex which would bring him the most satisfaction as an artist.
**snippage**
A brief excerpt from the interview:
GateWorld
: Atlantis was recently picked up for a fifth season. Are you excited about going back to work for a fourth year?
Jason Momoa
: Absolutely. I'm excited to do that with my character. You never know. You never know. My buddy Paul McGillion getting dismissed... that was a shocker, so you really never know in this business. I'm surprised they ask me back every year, so it's always a pleasure. You just never know. It could be like "Nah, we don't want him back. We're done with Ronon." You never know. I'm excited to be back. It's a privilege and an honor.