From SFX Online:
http://www.sfx.co.uk/page/sfx?entry=the_big_boss
(Please follow the link for the complete interview. Big Finish is publishing Stargate SG-1/Stargate Atlantis Audio Dramas. They are: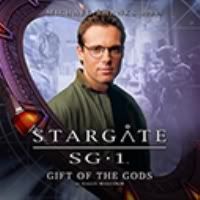 April 30 SG-1 Gift of the gods Sally Malcolm Read by
Michael Shanks
http://www.bigfinish.com/SG-1-Gift-of-the-Gods
May 30 SGA Necessary evil Sharon Gosling read by
Torri Higginson
http://www.bigfinish.com/Stargate-Atlantis-A-Necessary-Evil
June 30 SG-1 Shell game James Swallow read by
Claudia Black
and
Michael Shanks
July 30 SGA Perchance to dream Sally Malcolm read by
Paul McGillion
August 30 SG-1 Pathogen Sharon Gosling read by
Teryl Rothery
September 20 SGA Zero Point James Swallow read by
David Nykl
)
Saturday February 16, 2008
The Big Boss
It's a new era for Big Finish, as the company joins the download revolution and offers its audio adventures for instant access from its site at http://www.bigfinish.com. It's the latest milestone from a company that has been turning out quality, original, BBC licensed Doctor Who product for nearly a decade now, using actors from the TV show as well a host of other big name stars. It's been an amazing success story, and the man who's been overseen the company from the start, Jason Haigh-Ellery, spoke to SFX recently about the incredible audio journey.
**snippage**
SFX: And Big Finish is obviously not just Doctor Who. You're also doing original Sapphire and Steel stories and you're just about to launch a range of Stargate audios.
"Stargate's an interesting one. Not our first American licence. Dark Shadows was our first. That was an interesting for us, because it was our first time working in LA, our first time working with American actors, our first time dealing with an American organisation. And it was a good soft entry, actually, because it was a bit like Doctor Who. Dark Shadows hadn't been made in Donkey's years, far longer than Doctor Who actually. It keeps on getting revived; Johnny Depp's bought the rights to do a version of it. It has a very similar fandom. We were able to launch over there and one in every four of all the people leaving the convention we launched at took a CD with them. They've been gagging for a second series which will be happening very soon.
"And then we went to MGM about Stargate. It took about a year to negotiate. We're vey, very happy that we're going to do something new. And something that is very well supported. The initial reaction has been very, very positive. We launch in April and we're now able to launch on a download site.
"We are in negotiations over a couple of other properties. You'd probably be able to figure them out but I can't say. I can tell you who we're not doing. We're not doing Babylon 5. We tried. It just wasn't possible. It's a shame really, because it's died off a bit now. Quite a lot, actually.
"And the big one, which I'd still like to do is James Bond. We pitched it. We wanted to do James Bond set in the '50s and '60s, doing the books verbatim, including the bits that aren't as good as the other bits. The films' production company, Eon said - after they'd thought about it for six months - that it would impact on DVD sales. It was a great shame, because we had chosen our James Bond, even. Neil Roberts who is ridiculously good looking, but that doesn't matter on audio. He has the right voice to be James Bond."