From TV Guide Online:
http://community.tvguide.com/blog-entry/TVGuide-Editors-Blog/Dvd-News-Reviews/St
argate-Storyline-Comes/800034837
(Please follow the link for the complete article.)
DVD News and Reviews
A Sneak Peek Inside Stargate's Ark of Truth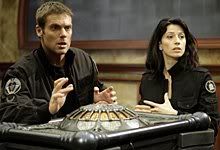 **snippage**
Although Ark concludes the series, at least one more 'Gate movie is just about finished. Continuum, which was made with Ark last spring, is a stand-alone story set in the Arctic.
Richard Dean Anderson
is back for this alternate time-line venture, where no Stargate program exists and the long-vanquished Goa-uld rule. "Hopefully these will demonstrate that we still have SG-1 stories to tell," Cooper says. That means more DVDs could be on the way, though there are no deals yet.
Sci Fi hasn't signed off on Stargate: Universe, Cooper and co-producer Brad Wright's third franchise entry, which will have a new setting yet allow for crossovers from the other series.
In the meantime, Atlantis will be back for Season 5 this summer (probably July)
, and SG-1's Michael Shanks will make a two-episode visit mid-season.
— Ileane Rudolph