The SciFi Channel has scheduled an all day marathon of Star Trek: Enterprise for Monday 26 '08, from 8am through 4am Tuesday May 27 '08 -- 20 hours of back to back Enterprise! Cast includes Scott Bakula, John Billingsley, Jolene Blalock, Dominic Keating, Anthony Montgomery, Linda Park and Connor Trinneer.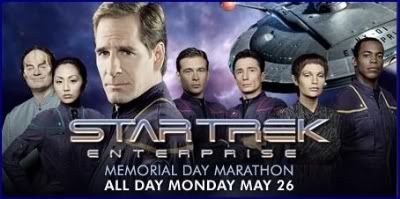 Here's the schedule:
08:00A BROKEN BOW - PT 1
09:00A BROKEN BOW - PT 2
10:00A UNEXPECTED
11:00A THE ANDORIAN INCIDENT -
Jeffrey Combs guest-stars.
12:00P COLD FRONT
1:00P SILENT ENEMY
2:00P DEAR DOCTOR
3:00P SLEEPING DOGS
4:00P SHADOWS OF P'JEM -
Jeffrey Combs guest stars.
5:00P SHUTTLEPOD ONE
6:00P ACQUISITION
7:00P FALLEN HERO
8:00P CARBON CREEK
9:00P DEAD STOP
10:00P SIMILITUDE
11:00P CHOSEN REALM
12:00A HARBINGER -
Steven Culp guest stars.
01:00A HOME -
Joanna Cassidy guest stars.
2:00A DAEDELUS
3:00A OBSERVER EFFECT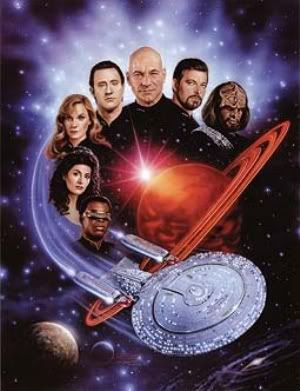 Star Trek: The Next Generation
premieres on the SciFi Channel (US) on Monday, June 2 '08 with:
7:00P THE NAKED NOW
8:00P THE BIG GOODBYE -
Peabody Award winning episode and won an Emmy for Best Costume Design for a Series in 1988
9:00P THE ARSENAL OF FREEDOM
10:00P SKIN OF EVIL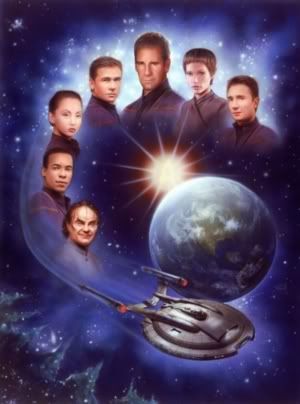 Star Trek: Enterprise
MOVES to Tuesday's beginning June 3 '08 with:
7:00P BROKEN BOW - PT 1
8:00P BROKEN BOW - PT 2
9:00P FIGHT OF FLIGHT