From GateWorld:
http://gateworld.net/interviews/breaking_the_ice_part_2.shtml
(Please follow the link to download the audio interview and/or read the transcript.)
BREAKING THE ICE
GateWorld Talks with Brad Wright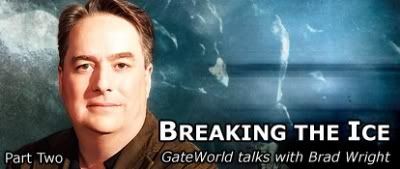 GateWorld's interview with Stargate executive producer Brad Wright continues in this second half, as the topic turns from the upcoming DVD movie Stargate: Continuum to Atlantis, the past and future of SG-1, and what lies ahead for the venerable franchise.
Wright reveals his plans to return to the original SG-1 pilot episode "C
hildren of the Gods
," and discusses his brand new Stargate Atlantis episode "
The Shrine
." He also gives us the exclusive working premise of
Stargate: Universe
, the planned third TV series.
Part Two of our interview with Brad runs 24 minutes. You may listen at your leisure, download to your MP3 player, or read the transcript [at the link above]!
Visit Part One of our interview here!
http://gateworld.net/interviews/breaking_the_ice_part_1.shtml
A brief excerpt:
GW: Stargate fans are eagerly awaiting word from MGM and SCI FI as to what's next. Is it going to be a third movie first? Is it going to be a third series first? Can you give us a status update?
BW: Yes! [Laughter] We know we're doing something. That's all I can tell you right now. I have been a bit frustrated at the time it takes for these things to unfold. Part of the reason it's taking a while is Atlantis is currently ongoing, and also because we didn't want to go into development with anything during the writer's strike because it seemed inappropriate. Even though we're Canadian we recognized it was for the American marketplace and I was respectful. I'm a member of the Writer's Guild of America, so it was wrong on many levels.

Having said that, internally Robert and I are a little bit torn, because we had such a good time making

The Ark of Truth

and

Stargate: Continuum

. Making one or two of those a year would be a damn fine thing to do, honestly. It takes up a big chunk of time writing it, a big chunk of time making it, and the post on a movie is more than twice as complicated as post on the biggest episodes. It's not like you can just knock one off while you're making a television show. It's just too much.

I also know that

Stargate Universe

is a good idea for a television show.