From the Roseville Press Tribune (Roseville, CA):
http://www.rosevillept.com/detail/83709.html
(Please follow the link for the complete article. Photos at the site.)
Shooting for the big `scream'
Roseville couple writes, produces feature film
By Paul Cambra The Press-Tribune
A puddle of blood lies beside the rack, though it had been weeks since a victim last occupied it.
Meat hooks and rusty chains hang from faux-cinderblock walls. A vise sits at the ready, next to a pickax, some clamps and the odd assortment of knives.
Fake insulation oozes between the ceiling joists, adding a suffocating presence to the makeshift torture chamber.
You want light and airy? Step into the room next door, where the lighting is more conducive to oral surgery. Hence, the reclined dental chair, oxygen tank with mask, and a pegboard wall full of surgical supplies that leaves one with the unmistakable feeling they are not there for root canals.
No, this isn't some hidden chamber in the bowels of Guantanamo Bay. This eerie outpost is a lot closer to home. From the outside, it's just another nondescript four-car garage in downtown Roseville. But inside is where movie magic – and mayhem – happens.
"I set out to write something that we could shoot in one place, on a reasonable budget," said Kevin Haskin, the "Ke" of KeJo Productions, an award-winning film and digital video company based in Roseville.
The result is "Sensored," a psychological thriller starring Robert Picardo, of "Star Trek: Voyager" and "Stargate Atlantis" fame. The film is currently in the post-production stage, with an expected release date of late 2008.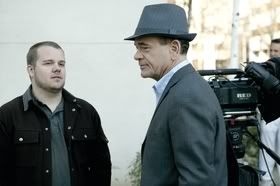 **snippage**
The Haskins felt fortunate to have a veteran actor like Picardo on the project. He and Kevin sat down at the end of every shoot and went over the following day's script.
It is not uncommon for an actor to "tweak the dialogue," as Jo said. "What was written might not roll off his tongue naturally, so he suggests things that might sound more natural to him."
"He was an amazing help," said Kevin. "Wonderful to work with."
**snippage**