From The SciFi Guys:
http://www.dtrn.co.uk/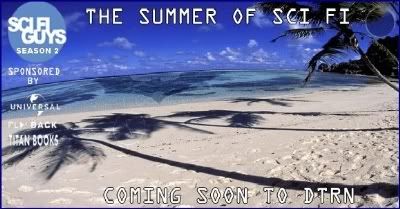 The SciFi Guys Return This Week with Edward James Olmos
As the summer enters full flow, The Sci Fi Guys return to kick start a Summer of Sci Fi on DTRN, this week with their annual Expo Radio Rewind Show featuring special guest Edward James Olmos.
The show is at 8pm (GMT) this Wednesday 2nd July live from http://www.dtrn.co.uk.
Interviewed as part of this years London Expo Radio Live broadcast (in association with The London MCM Expo) Edward, who has also worked on shows such as Miami Vice, talks to Stuart about life on Battlestar and much more.
Stuart is also joined on the show, which will take a look back at the recent London MCM Expo, by special guest co-host, Tony Lee. Known for his work on titles such as X Men, British comic writer Tony Lee is currently working on the
Doctor Who
comic book, The Forgotten for IDW publishing and was also presenter for the comic stage at this Mays Expo.
The show will also feature an exclusive chat from the Expo with 20th Century Fox about the forthcoming X Files movie!
Alongside a review of the recent London Expo the guys will also be talking about all the news and maybe even a few reviews from the worlds of Sci Fi, Cult TV, Comics, Movies, Anime and much more.
Finally, Stuart will also be revealing more about the forthcoming DTRN Summer Of Sci Fi and how you can get involved!!
The fun starts at 8pm this Wednesday on
http://www.dtrn.co.uk
and will also include all the latest news and discussions on everything from Sci Fi to Cult TV and movies. In the meantime don?t forget to check out the forums for all the latest DTRN news and off air discussion.