From Pop Culture Zoo:
http://popculturezoo.com/archives/622
(Please follow the link for the complete interview.)
A Conversation With Paul McGillion
By Joseph Dilworth Jr. ⋅
June 15, 2008 ⋅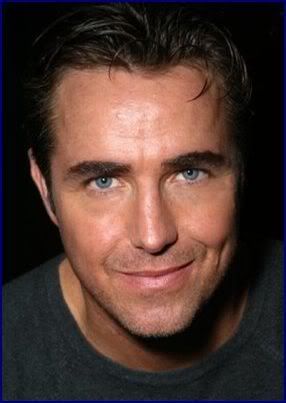 He has appeared as Carson Beckett in the first three season of "
Stargate Atlantis
", before his character was killed off. He appeared as an actor and a female Scottish detective in the very funny film
A Dog's Breakfast
. He has guest-starred on such high profiles TV series as "
The X-Files
", "
Smallville
" and "
The Commish
". He has appeared in several films and will have a role in J. J. Abrams version of
Star Trek
. And, due to an outpouring of fan support, he returns this year as Carson Beckett in several episodes of "
Stargate Atlantis
". On top of that he's a very friendly and kind person. I am speaking of Paul McGillion. This past week he agreed to speak with us via phone from the set of "Atlantis". As you can imagine, shooting a television show is pretty hectic, so it took a couple of days before he had some time and he got called back to the set in the middle of the conversation. We are very grateful that he choose to use some of his free time to talk to us. This conversation began, like many others, with the answering of a phone call.
A brief excerpt:
PCZ: So, you're back on the set of "Stargate Atlantis" this week…
PM: Yes.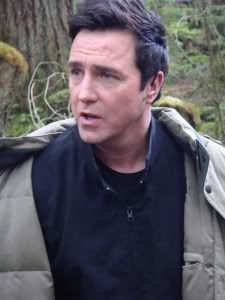 Photo courtesy of Joseph Mallozzi's Blog
PCZ: …can you talk about the episode you're filming?
PM: The episode I'm filming right now is called "Outsiders" and it's my third episode this season of the five that I'm doing, or the minimum of five. It's an episode written by Alan McCullough. We have Will Waring directing. It's a lot of Wraiths and a lot of conflict. David Hewlett and I have a ton of stuff, there's a lot of Beckett and McKay stuff in it. We're doing a scene right now that's hopefully pretty funny. The whole crew is laughing at our scene in a Wraith Dart so it's really funny. We're having some really good laughs doing it. It's been great. David and I are pretty much throughout the episode and we have a lot of stuff together. So it's a big Beckett and McKay episode.
**snippage**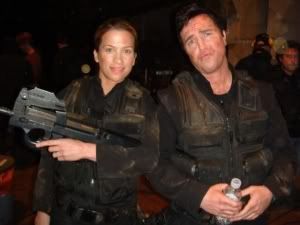 Christina Cox and Paul McGillion from the episode "Whispers" - Photo courtesy of Joseph Mallozzi's Blog