From
NBCUMV
:
SCI FI.COM, THE WORLD'S LARGEST GENRE ENTERTAINMENT WEB SITE UNVEILS SLATE OF EXCLUSIVE ORIGINAL PROGRAMMING
Published: July 20, 2008

Website Set New Record in 2Q08
Launches New Stand-Alone Entertainment Site SCI FI WIRE
BEVERLY HILLS, Calif. - July 20, 2008 - Continuing SCI FI's commitment to providing viewers with a fully immersive, multi-platform entertainment experience, SCIFI.COM today announced a slate of online programming and a new stand-alone entertainment site SCIFI WIRE. The announcement follows SCIFI.COM's best quarter ever, which saw record monthly traffic of uniques (3.4MM), visits (5.7MM), page views (36.8MM) and video streams (5.2MM). That represents double and triple digit increases year-to-year and quarter-to-quarter. Time spent per unique also hit a new record as each user spent an average of 21.8 minutes on the site.
SCI FI WIRE
SCI.FI.COM's heavily trafficked entertainment news section SCI FI WIRE will be re-launched and expanded as a stand-alone site in Q4 2008, joining a digital portfolio that already includes SCIFI.COM, the technology site DVICE.COM and the game site Fidget.com. With expanded coverage as part of the site's growth into the entertainment space, viewers will be able to check out the latest happenings in the entertainment world featuring daily updates on movies, TV shows, games, books and more. SCI FI WIRE video reports are some of the most viewed original content on the site with celebrity interviews including Steven Spielberg, Tobey Maguire, Robert Downey Jr., Keira Knightley and other favorite Hollywood stars. SCI FI Wire recently had its best month every with nearly 1 million unique visitors.
GHOST HUNTERS SOCIAL NETWORK
This fall, SCIFI.COM will launch the first-ever Ghost Hunters social network, Join the Hunt. Whether you're a seasoned investigator or a novice setting out on your first hunt, this network will serve as the ultimate place to connect with ghost hunting fans everywhere and learn about ghost hunting techniques. Features will include the "haunted or not?" evidence analysis (where users can rate each others' photographic evidence to determine its validity), resources and tutorials on how to plan the perfect investigation and a community where users can share their favorite ghost stories, show off their ghost hunting gear and more!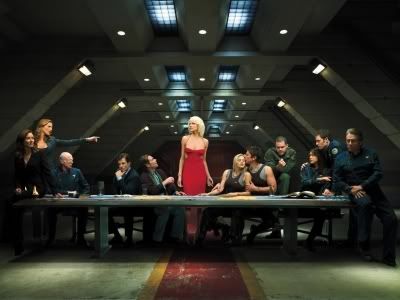 BATTLESTAR GALACTICA SEASON 4.5 WEBISODES
With the 4th and final season of SCI FI's award-winning series coming to a close, fans can rejoice with Galactica Webisodes returning in the weeks leading up to the final 10 episodes. SCIFI.COM and Universal Cable Production will produce ten 2-3 minute serialized webisode chapters that complement and enhance the action broadcast on SCI FI. The storyline will give viewers more insight into characters and events from the 4th season.
DVICE TV SPECIAL
For viewers who need to know what's next in the world of technology, SCI FI will air a half-hour TV special based on the broadband series DVICE TV. DVICE TV is the video version of SCI FI's popular technology site DVICE.COM, which highlights new technology that SCIFI.COM's young, affluent audience needs to know about. Hosted by Vanessa Rae, the DVICE TV special will feature the best-of gadgets from DVICE TV Online, from hot new technology to crazy inventions. The special will air in Q4.