With many thanks to
SF Signal
for the heads up!

The new TOR web site has gone live!

"Original fiction from star authors. Galleries of images from the field's best artists. News and commentary about not just Tor books, but the SF world overall. Topical coverage of major events like San Diego Comic Con (July 23-27) and the World Science Fiction Convention (August 6-10). Weblog posts and guest appearances by some of the most interesting personalities and thinkers around. And your own feedback and discussions, plus tools to enable you to track the subjects and conversations you care about the most."
Following is a list of titles available on
www.tor.com
:
Mistborn
by Brandon Sanderson
Old Man's War
by John Scalzi
Spin
by Robert Charles Wilson
Farthing
by Jo Walton
The Outstretched Shadow
by Mercedies Lackey & James Mallory
Crystal Rain
by Tobias Buckell
Lord of the Isles
by David Drake
Through Wolf's Eyes
by Jane Lindskold
The Disunited States of America
by Harry Turtledove
Reiffen's Choice
by S.C. Butler
Sun of Suns
by Karl Schroeder
Four and Twenty Blackbirds
by Cherie Priest
Spirit Gate
by Kate Elliot
Starfish
by Peter Watts
Touch of Evil
by C.T. Adams & Cathy Clamp
A Shadow in Summer
by Daniel Abraham
Orphans of Chaos
by John Wright
In the Garden of Iden
by Kage Baker
In the Midnight Hour
by Patti O'Shea
Battlestar Galactica
by Jeffrey A. Carver
Flash
by L.E. Modesitt, Jr.
Soul
by Tobsha Learner
Darkness of the Light
by Peter David
Three Shadows by
Cyril Pedrosa
And there are desktop wallpapers available too, including: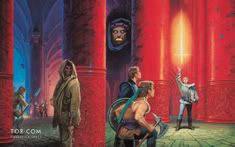 Darrell K. Sweet's painting, The Dragon Reborn, for Robert Jordan's The Wheel of Time series
Available in these sizes:
320x480 (iPhone), 1024x768, 1280x800, 1280x1024, 1680x1050, 1600x1200