From
Monsters and Critics
: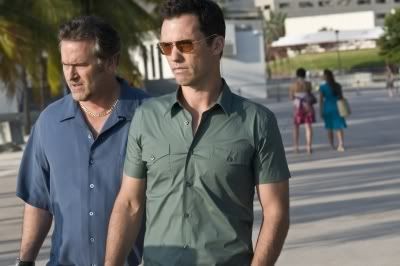 Bruce Campbell and Jeffrey Donovan
(Please follow the link for the complete interviews.)
'Burn Notice' Chat with Bruce Campbell and Jeffrey Donovan
USA's "
Burn Notice
" season two picks up right where season one left off, and after watching the screener with the first two episodes, no sophomore slump will curse the droll, fast-paced series.
It's a testosterone filled romp full of clever repartee between lead Jeffrey Donovan and Bruce Campbell. Gabrielle Anwar (Fiona) and Sharon Gless (mom) headline the female cast and are given their share of great writing too.
The Miami Herald's reporter Doug Hanks notes in a July 7th piece that the production for "Burn Notice" expects to spend about $12.5 million in Florida this year filming the second season, and details the effects on their local economy. Not since "Miami Vice" has such a large TV production filmed there.
Suffice to say local businesses that supply film production are thrilled to have Donovan's character Michael Westen come to grips with his shattered career, mother issues and his sexy crazy ex-IRA operative girlfriend in the southern Florida setting.
A brief excerpt:
Is MacGyver Michael's weaponry handyman inspiration?
Jeffrey Donovan: Well you'd have to ask Matt Nix actually. He's the one who came up with the idea of a guy who was MacGyver-esque, but you actually believed he could do those things.

So everything that we do in the show, you actually can make at home. Matt keeps a couple of ingredients out of the bombs just so no one, you know, blows up little Timmy.
Bruce, are you getting more fans who are older women?
Bruce Campbell: No, I'm not getting anything here in Miami. My wife is a very good ally in that respect. I don't need to go method here. So everything is all under control here in Miami. I'm just standing back in awe of Mr. Donovan.
Jeffrey Donovan: He's not getting older women fans. He's getting me. That's the new fan, yeah exactly.