From the
Pittsburgh Post-Gazette
(Pittsburgh, PA):
(Please follow the link for the complete article.)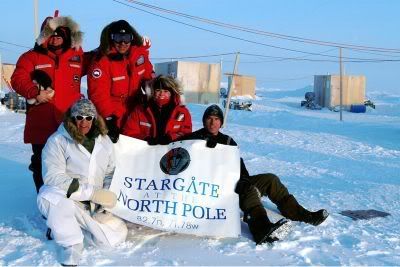 DVD screening ship-shape
Thursday, July 31, 2008
By Sharon Eberson, Pittsburgh Post-Gazette
SAN DIEGO -- The setting, even for a city with glorious seascapes, was breathtaking, taking the stars of "Stargate SG-1" where few premieres had gone before: aboard the USS Midway in San Diego harbor, for a red-carpet walk and special screening of "
Stargate: Continuum
."
The straight-to-DVD movie, in stores this week (see
review
), had taken the cast through a time-traveling adventure and far, far away from this breezy, clear sky -- to the Arctic.
With help from the U.S. Navy, director
Martin Wood
and stars
Richard Dean Anderson
,
Ben Browder
and
Amanda Tapping
landed in the Arctic Circle, where polar bears and frost bite were constant dangers and a nuclear submarine hit its mark, crashing through the ice for a rescue scene in the film.
...One thing you won't see again, says Anderson, is the return of
MacGyver
, which he has parodied in commercials and on "
The Simpsons
."
"I'd love to return to '
The Simpsons
.' Dan Castellaneta [voice of Homer Simpson] is my hero. We met on 'Stargate,' " when Castellaneta was a guest star...