From
Zap2It
: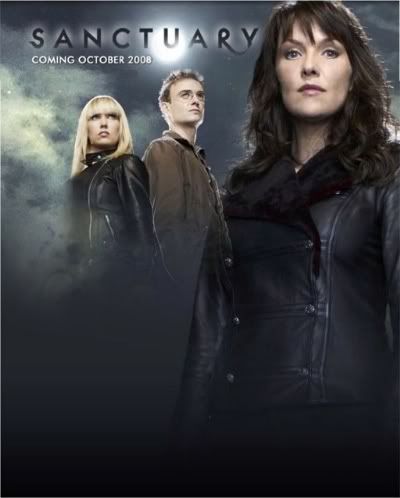 Sanctuary - Sci Fi
Premieres: Friday, Oct. 3
Airs: Fridays at 10 p.m.
Stars: Amanda Tapping, Emilie Ullerup, Robin Dunne
What's It All About? Amanda Tapping stars as Dr. Helen Magnus, a 157-year-old "terrologist," one who studies monsters. Along with her team, she befriends creatures that have evolved from mankind and gives them a safe haven in which to live. Of course, not all monsters want a sanctuary, and the most dangerous need to be disposed of. The series is shot extensively on green screen -- like the movie "Sin City" -- allowing creators to immerse their characters in imaginary and detailed worlds. A prequel of sorts aired in a number of short webisodes (still available at YouTube.com). Though these had the same cast and concept, creator Damian Kindler ("Stargate") promises the TV series will have more humor -- something notably lacking in the webisodes -— as well as brighter sets and more backstory for the main characters. Kindler calls it a "reboot of the concept" and adds, "It's brand-new and different and reimagined and in a really cool way, so we're excited to see how the people that saw the first iteration react to the even bigger, shinier version."
~~**~~**
NOTE: Sanctuary's premiere is Oct. 3 and begins at 9pm as it is a two-hour premiere. The following week, on October 10, Stargate Atlantis moves to 9pm and Sanctuary takes the 10pm time slot on the SciFi Channel (US).